Conférence de Christopher WLEZIEN le mardi 16 mai 2023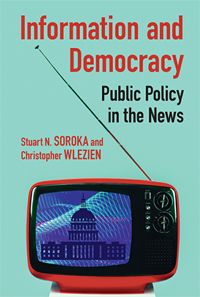 Christopher Wlezien, professeur en sciences politiques et en gouvernance publique à l'Université d'Austin (Texas) présentera son dernier ouvrage co-écrit avec Stuart N. Soroka (Université de Californie, Los Angeles) intitulé : Information and Democracy, Public Policy in the News.
La conférence se tiendra le 16 mai 2023 en salle des conseils du Panthéon de 9h30 à 12h30 sous l'égide de la fondation Descartes, de l'ambassade des Etats-Unis et des laboratoires CARISM et CRED de l'Université Panthéon Assas. La conférence aura pour thème principal le traitement médiatique des politiques publiques et son influence sur le public.
Contacts : Bruno Jérôme (Université Paris II Panthéon Assas bruno.jerome@u-paris2.fr ) et Fabrice D'Alemeida (Université Paris II Panthéon-Assas Fabrice.Dalmeida@u-paris2.fr)